Welcome and thank you for viewing our website. We hope you find what you are looking for!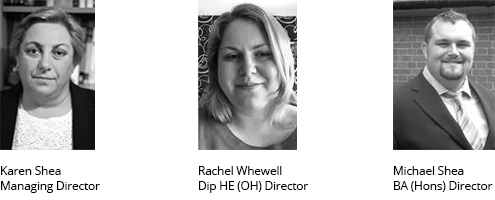 Director Karen Shea set up as a sole trader in February 2010 after working for 23 years at a Group Occupational Health Company originally called Slough Industrial Health, the first Group Occupational Health company in the UK, set up in 1947.
Within 9 months she was advised to set up a Limited Company as the business was growing exponentially; - Hence Shea Occupational Health Limited was born. The Company is a Family Business, mother daughter and son. Rachel joined as a trainee Occupational Health Technician in May 2014, and she has since qualified in Occupational Health from South Wales University and Michael joined July 2018, as a Technician and Administrator.
Shea Occupational Health Limited has now been providing Occupational Health and Safety Services to clients across England, Scotland and Wales for just over 10 years. Our services include Fitness to Work, Sickness Absence Management Health Surveillance Health and Safety and Employee Wellbeing.
We work with a broad spectrum of industries and clients, and have a long track record of delivering services to them for many consecutive years, such as Sony Uk, Reliance Worldwide Corporation, Metro plating and Engineering works, Almor Ltd and Kensington Royal Garden Hotel to name but a few.
We strive to provide our loyal customers with reliable and independent Occupational Health advice. We achieve this by providing our customers with bespoke, pro-active and cost-effective Occupational Health services designed to support and maintain good health at work whilst pro-actively minimising work-related ill health.
Our company aim is to ensure that your employees;
Work Fit Work Safe because Good Health is Good Business
We'd love to discuss your Occupational Health needs, so why don't you get in touch.